What is
CABLE BITE?
Adorable little animals "bite" onto your smartphone!
CABLE BITES are accessories for iPhone official lightning cables.
CABLE BITE animals attached to your charging cable and appear to be biting onto your smartphone. Their cute expressions will bring a smile to your face while protecting the most sensitive part of your charging cable – where the cord meets the plug. CABLE BITES are the new mobile accessory you will want to take with you everywhere and show off to your friends!
* CABLE BITE is a registered trademark of Dreams inc.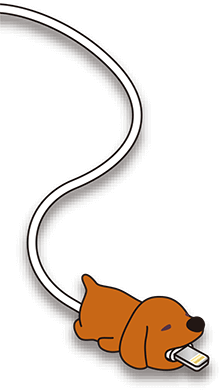 How to use



Insert the cable into the underside slot.




Make sure the dock connector is embedded securely.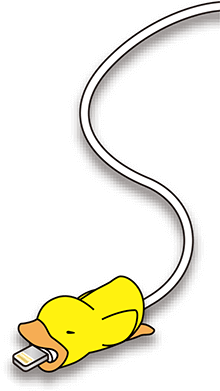 Q&A
Q

Is it OK to use it with my Android?

A

CABLE BITE is made in connector size of iPhone official Lightning charging cable. It is possible to use as cable accessory but may not perfectly fit.

Q

How do I attach it to my cable?

A

Please check [How to use].

Q

I'm using a smartphone case/bumper.

A

In some cases, cable with CABLE BITE might not fit.

Q

Where can I get it?

A

Please check [Store list].

Q

What is it made of?

A

Material is ATBC-PVC or PVC, it depends on series.
Let's Share CABLE BITE Official Site!